At Larry's Auto Clinic Inc., we want our Myrtle Beach customers to have the opportunity to feel comfortable in their vehicle. You can leave the repairs and services to our professionals, but please don't hesitate to ask us questions about why a service is needed or how it occurred. Give us a call at 843-293-2205, and we will be happy to speak with you. Here is some valuable information on brake issues and corrective services Larry's Auto Clinic Inc. offers.
Anti-Lock Brake System
Anti-lock Brake Systems (ABS) ensure that the wheels don't stop rotating during braking, preventing the car from skidding and offering greater control. If your ABS light comes on, visit Larry's Auto Clinic Inc. where we will be happy to diagnose and fix the problem.
Brake Fluid Flushes
Brake fluid will absorb water from the air over time, causing the brake system to become less effective and the fluid to become corrosive, possibly damaging the system. It is important to perform a brake fluid flush regularly to ensure that your vehicle is using fresh fluid. Talk to our technicians at Larry's Auto Clinic Inc. about when it's time for a brake fluid flush.
Brake Hoses
A brake hose is a tube carrying pressurized brake fluid from the master cylinder to the brakes. A crushed hose can cause a lagged or slow brake, and a leak in the hose can cause the brake, or the entire brake system, to fail. These don't need to be replaced often, but should be replaced at the first sign of cracking or wear.
Brake Pad & Shoe Replacement
Brake pad problems can usually be identified by squealing brakes. If your brake pads deteriorate completely, you'll hear a grinding metal-on-metal sound when braking, meaning that it's too late and you're ruining your rotors or drums! Those with knowledge of auto repair may be able to fix this at home, but you should always see an auto repair professional immediately if you have brake problems.
Caliper Replacement
The brake caliper houses your brake pads and fits around the rotor like a clamp, pressing the pads against the rotor when you brake. A brake caliper problem could cause uneven braking, making your car slide forward when you brake. Uneven braking can also cause your vehicle to slide out of control in bad weather conditions, so contact Larry's Auto Clinic Inc. as soon as possible.
Best diesel mechanic in town. Has worked on my Chevy 3500 dually many times. Won't bring it anywhere else. Very knowledgeable and always a fair price for work done.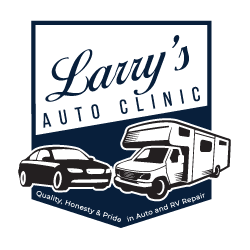 Brakes
, near
Myrtle Beach, Ohio
07/27/2021
We got into Myrtle when our brakes decided they were worn out. We called Larry's because of the good reviews. Didn't disappoint. They got us in the next day and within a few hours had us all fixed up so we could drive to softball games the remainder of the week. Thank you so much!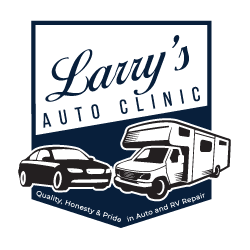 Very Professional
Brakes
, near
Myrtle Beach, NC
10/07/2020
These guys are awesome. Got me in for a major RV brake issue the next day after I called. Evaluated the extensive problems, ordered parts and had me back on the road the next day. And I might add, at a final price less than their estimate. Very professional. Can't thank them enough.
Discover More About Brake Repair Services At Larry's Auto Clinic Inc. in Myrtle Beach

Contact Us
Signs That Your Car Needs A Mechanic
Customer Service
coupons
Premium Vehicle Inspection and Oil Change $40.00 Savings!

Now $55.00 on a $95 value.
view coupon
Have you had your annual Premium Vehicle Inspection and Oil Change yet? Larry's Auto Clinic is offering this specialty service Including up to 5 qts of synthetic blend, tire rotation, brake inspection, battery load test, check and top off fluids, inspect belts, hoses, lights, wipers, tire pressure and tread. Check front and rear suspension, Engine air filters and AC vent temp.
Testimonials
Carol and Real Jomphe

, 05/03/2023
Very welcome, our repair was not mechanical, Larry referred us to Eric from Shoreline RV Repair who did the repair which was done at Larry's Auto Clinic. We are very satisfied with the service and will recommend this company. Thank you so much !
view all reviews