Want someone to talk to about your Workhorse, Chevrolet or Ford chassis motorhome? Your motorhome is an expensive investment. Ensure yours performs optimally with RV repairs from Larry's Auto Clinic Inc. in Myrtle Beach, SC 29577. For your convenience, we also offer Wi-Fi, water, electrical, sewer, and TV hookups for RVs.
Specializes in Chassis Work
Your RV's transmission and engine are essential systems. At Larry's Auto Clinic Inc., we specialize in chassis work for engines and transmissions, but also offer complete RV repairs for:
Cooling System
Brakes
Electrical Systems
Leveling Systems
Air Conditioning Systems
Drivetrain Systems
RV Interiors
In addition to restoring systems outside of your motorhome, you can count on us to maintain your vehicle's interior as well. Some of our RV repairs are available for:
Backup Cameras
Generator Maintenance
Refrigerators
Hydraulic, Hand-Cranked, and Motor-Driven Slides
Furnaces
Microwaves
Very welcome, our repair was not mechanical, Larry referred us to Eric from Shoreline RV Repair who did the repair which was done at Larry's Auto Clinic. We are very satisfied with the service and will recommend this company. Thank you so much !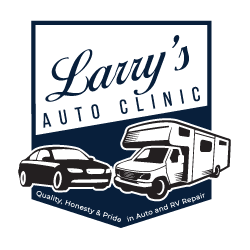 RV Repair
, near
Myrtle Beach, SC
10/07/2022
Thank you Larry's Auto Clinic Inc. for getting us back on the road QUICK! They were very accommodating, as I had to wait at the shop for the oil change since Jimmy was playing a show. They were nice enough to fit us in and let Motley and I hang out in the air conditioning. Also, this was my first time driving the RV alone with Motley on my lap! They were also nice enough to get the RV turned around for me to send me on my way. Great experience all around! Thanks for the recommendation Danny McGaha!
We had to have the front sway bar bushings replaced on our Chevy Express 3500/Class C RV while vacationing in Myrtle Beach. The Chevy dealership there said they couldn't work on RV's but the parts man recommended we take our rig to Larry's Auto Clinic for repair. He assured us that they were reputable, honest and proficient, so we took the advice, and are so glad we did! We had contact with Justin and Larry who were SO friendly and nice! They also swiftly made the repair and the cost was extremely reasonable. We felt like we made a couple of friends, and will definitely return there if we need to when in MB again! Thank you guys!!! Sally & June
Testimonials
Keith Graham

, 07/31/2023
Moved my Daughter down there for school a month ago!!! She had some vehicle issues and I am 11.5 hrs away after a computer scan and inspection some things needed fixed and some not worth the $$$ but safe to drive very trustworthy place fully recommend them!!!
view all reviews