You Don't Have to Take Our Word for It!

Here's what some of our satisfied customers have to say about Larry's Auto Clinic Inc.:


Best diesel mechanic in town. Has worked on my Chevy 3500 dually many times. Won't bring it anywhere else. Very knowledgeable and always a fair price for work done.
First time getting car serviced at Larry's Auto Clinic. Very pleased with service and was provided with full explanation of the cooling system flush process and cost of a same. Work was done in a timely fashion and I was soon on my way. Will be a repeat customer.
Fit my car in on a very busy day. Diagnosed and repaired quickly - gave solid overview of what additional repairs are needed. Much better than Firestone, Meinije, etc. owner is patient and professional . I'll be back!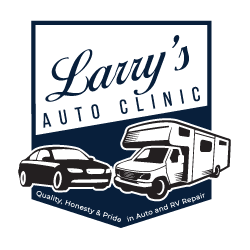 Myrtle Beach, Pennsylvania
08/30/2021
Great service! In and out air conditioning repair within a vacation morning! Thank you Larry!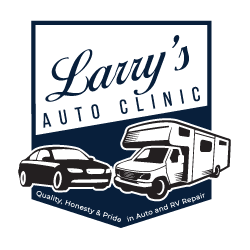 Brakes
, near
Myrtle Beach, Ohio
07/27/2021
We got into Myrtle when our brakes decided they were worn out. We called Larry's because of the good reviews. Didn't disappoint. They got us in the next day and within a few hours had us all fixed up so we could drive to softball games the remainder of the week. Thank you so much!
We had to have the front sway bar bushings replaced on our Chevy Express 3500/Class C RV while vacationing in Myrtle Beach. The Chevy dealership there said they couldn't work on RV's but the parts man recommended we take our rig to Larry's Auto Clinic for repair. He assured us that they were reputable, honest and proficient, so we took the advice, and are so glad we did! We had contact with Justin and Larry who were SO friendly and nice! They also swiftly made the repair and the cost was extremely reasonable. We felt like we made a couple of friends, and will definitely return there if we need to when in MB again! Thank you guys!!! Sally & June
Excellent service. Larry is very open and honest. He called me twice to keep me updated on the status of repair to my A/C system. 5 Star service.
Excellent customer service. They treated us right. Very informative. Highly recommend!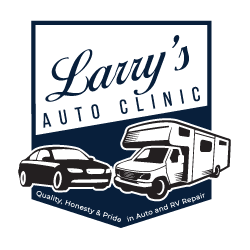 Myrtle Beach, South Carolina
12/22/2020
Great service! Called the day before and set up a morning appointment for the following day. They were quick and effective. Good pricing and very friendly staff. I'll be going back again for any future needs. Thanks Larry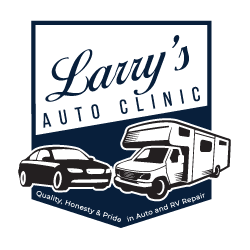 Radiator Replaced
Heating and Cooling Services
, near
Myrtle Beach, SC
12/04/2020
I highly recommend Larry's Auto Clinic. Did a wonderful job replacing my radiator. Also inspected other parts, and explained other problems that needed to be replaced in the near future. Cost was less then other places. Clean place, and they were nice and pleasant. Very good customer service.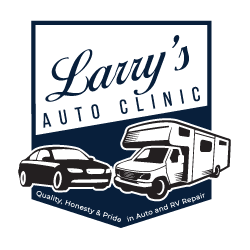 Very Professional
Brakes
, near
Myrtle Beach, NC
10/07/2020
These guys are awesome. Got me in for a major RV brake issue the next day after I called. Evaluated the extensive problems, ordered parts and had me back on the road the next day. And I might add, at a final price less than their estimate. Very professional. Can't thank them enough.
Excellent customer service. Larry carefully listened to my concerns and they handled every issue. I was surprised at how fast the repairs were completed. I would definitely recommend Larry's and will use them again.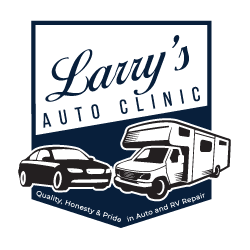 Briarcliffe Acres, SC
09/15/2020
Brought R.V. in thinking alignment was needed. I received a call shortly after dropping off with great news and update that vehicle was ready. Larry's will be our go to for all of our R.V. repair needs. Great facility and awesome staff. Would highly recommend...
5/5 stars for many reasons!! The owner Larry, was extremely attentive when I described my concerns about my vehicle. Once the problem was identified, he took time to call and explain how the needed repairs, would solve the problem and ease my worries. The newly renovated front office was clean and welcoming. In addition, the prices are competitive. I will definitely be back. Thanks guys!!!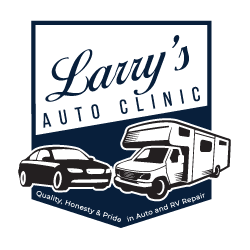 Myrtle Beach, Sc
05/01/2020
Best work and service ever. Larry is honest and experienced. You can trust what he recommends and all his advice. Work is done right the first time and guaranteed. Always willing to help even when on the road.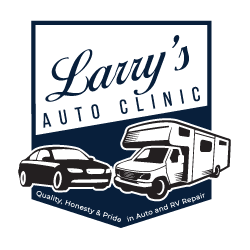 Thank you Larry and crew. Looking for honesty and integrity look no further. Owner Mr Larry Dobbs is one of the nicest, sincere, honest men I?ve had the good fortune to meet. When you speak Larry is listening carefully. As a RV owner I?ve found and met the real deal service tech all RV?s need. He?s always a phone call away to help comfort and assist even if your several states away. I make it a point to use Mr Dobbs as my Workhorse Chassie service technician and connection. As a blue collar business guy Larry can relate to my needs and concerns and helps keep my RV on the road. I mention to Larry my RV concerns and issues and he gets back wto me with answers and solutions. Thank you very much Larry for your service to me and more importantly the service to our country. You are an honorable man.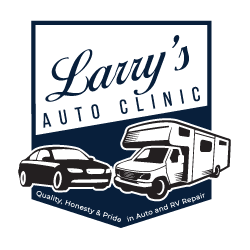 Larry is a great individual and runs his shop the same. Very accommodating and honest. A real pleasure dealing here!!!

Kenny Galvan - Saxonburg Pa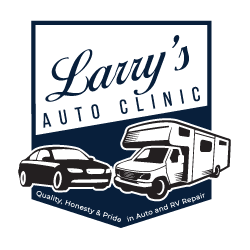 When I bought my first RV 2 years ago (pre-owned), I asked around as to where I should take my RV for service. The overwhelming response was Larry's Auto Clinic. Larry is the guy to go see. I heard this over and over again. And I now know why. I have been there many times since then, from routine oil changes, to complex fuel leaks and problems with my electrical system. In every single situation, Larry and his team have performed above expectations. His customer service is awesome and he really cares about the customer. He truly wants to help. I would not take my RV anywhere else. Larry is very knowledgeable, knows how to fix a problem, and is fair on what he charges. I highly recommend Larry as well as his mechanics, Justin and Lee. They are the BEST !

Bob Rue - Surfside Beach, SC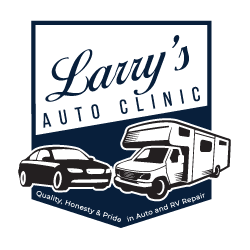 I am very pleased with my car repair, they did a excellent job, very satisfied with my results, very friendly service, thanks Larry, and all the mechanics, keep up the good work

Vince Jackson - Myrtle beach SC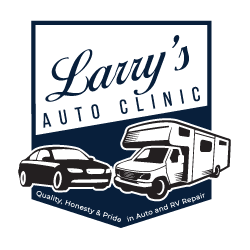 Had my RV serviced prior to a weekend trip to NC. I was referred by Chris at Campers Inn RV. Larry is honest; he wouldn't let me pay for anything I didn't need. He & his staff are competent, efficient & thorough. Honest mechanics are like honest politicians: few & hard to find. I will be taking my automobiles to him as well.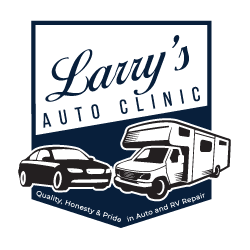 Larry is the nicest most knowledgeable service tech when it came to my workhorse Chassis's motor home. Been there twice and couldn't have been happier with the service I received. The parts are hard to get and he makes that known upfront, but he provided full hook-up for me for the time I spent there since we are full time. He and his wife Betty are now good friends and we always stop in when in the area.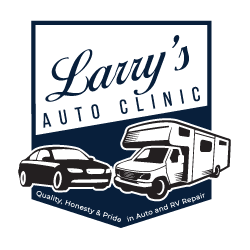 Very few Workhorse service and diagnostic centers on the east coast. I think Larry is one of two. Larry is very concerned with your problems and goes out of his way to handle all issues. I was towed in due to a hydraulic failure and Larry set me up on his lot with full hook-up. We are full timers and would have to end up in a motel until the repairs are made. We ended up there a couple weeks due to parts availability. My hat is off to Larry and Betty and his crew.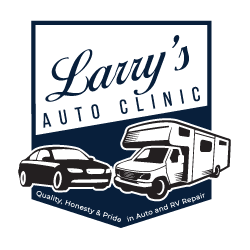 When you see and experience incredible/service,wonderful people/Larry/owner,Lee/top notch technician you must let all people know. From accommodating our short time request to fulfilling our service job it was excellent all around. Thank you to Larry and his son first and foremost for their service to our way of life and all we hold dear and cherish. It would not be without their unselfish sacrifice. Also to Lee our technician, thank you for your professional service and great attitude. Thank you Larry and May the wind always be at your back and the sun on your shoulders.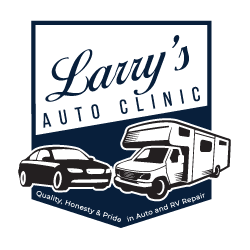 Absolutely top rated service. I have a 2003 Winnebago Adventurer on a Workshorse Chassis. I was having problems with the brakes, and thru IRV2 website, I found out the Bosch Brake Recall was not done. IRV2 website highly recommended Larry's Auto Clinic to perform the recall. I called Larry, we set a date of Friday to perform the work, and he suggested I travel down from Greer on Thursday night, and camp in the driveway. We made it in about 8:30pm, and plugged into 30am service, and slept comfortably. They opened the shop at 8am, and began working on the motorhome. Even though I had paid to have the front calipers replaced in 2015, under the conditions of the recall, all calipers had to be replaced. Fronts went with no problem, then they moved to the rear, using my leveling jacks to lift the tires off the ground. The problems were evident in the rear. Cracked rotors, stuck calipers, melted ABS sensors. Larry said the rotors were not part of the recall, and I said it has to be right, I'll pay. They proceeded to replace all parts, seals, rotors, calipers, brake fluid, ABS sensors. I was taking pictures of the technicians working on the motorhome, because I was curious what was involved. After seeing this, I would not attempt this on my own. After reassembly, Larry cleared all ABS error codes, and test drove the motorhome to ensure all repair was successful. Larry noticed that my motorhome horns were not working, and offered to fix them, and he did in short time. The technicians were friendly and knowledgeable, and answered all my questions about the repair. All repairs were complete and I left Larry's about 3:30 pm. I use a ODBC scanner and my trip mileage went from 6.8 mpg ave to 7.88 mpg avg on the return trip, I assume from elimination of drake drag from stuck calipers. Ride was smoother with no brake shaking. 100% pleased with their service, and I would highly recommend this military veteran's service to anyone! Larry- Thank you for your service, both in the military and your professional workhorse chassis repair.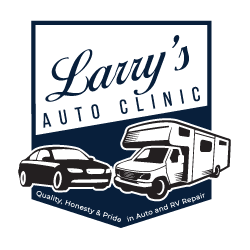 While travelling on the I-40 in North Carolina, we suffered a catastrophic engine failure. Fortunately we were able to pull off the highway and onto a safe place on the shoulder. One of the first things I did was to call Coach Net who was all to willing to bring us to a service center further north. At the time, I knew right away that this was going to be a difficult situation to deal with so I called Larry. We were safely towed south to a campground in Spartanburg and Larry took over from cradle to grave. Larry coordinated the towing of our motorhome to the service center in Myrtle Beach. Additional diagnosis determined that the engine was trashed. Larry recommended a remanufactured Jasper Engine and we had that installed. Once the motorhome was delivered we had a few minor issues to overcome due to the age of the old components that we reused, however all was resolved to our satisfaction. I've been having our motorhome serviced by Larry's for approximately 12 years and we are showing 118,000 miles on our odometer. Larry's keeps us on the road, and I would like to offer a BIG Thank You to Justin.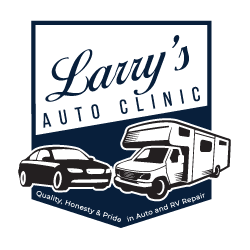 My family and I were recently camping in Myrtle Beach and had some issues with our coach. I found Larrys Auto Clinic on the Web and was glad I did. Although he was covered up he told me to bring it on in. Turns out I had oil pressure issues and the coach was running rough, had no power and was smoking. Larry diagnosed the problem and got it fixed. He also found a break issue I had and called me about that and got it fixed as well. Mr. Larry was kind and professional on the phone and in person. The work took a week and came to $1174 but now runs like a brand new coach and the stopping after the break work is a world of difference. If you are ever in the Myrtle Beach area and need RV repairs then this is the man to call. Larrys Auto Clinic. Fair, Kind, Proffessional and reasonably priced. Thanks again Larry.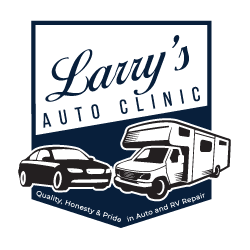 We had Larry's service install some valve extensions on our dual wheels. Very friendly ,professional and Larry added the personal touch to it. We had a problem on our way home to pa. A tire was leaking air fast. So we stopped at a service place. They said the one stem was not on tight. I called Larry and he returned $100 to me to offset the charge. He stands behind what he does. Would not hesitate at all to have service again at this place.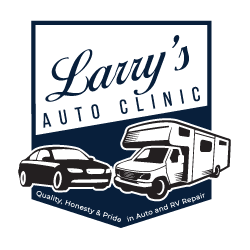 We were leaving Myrtle Beach on Wednesday and we needed to get fuel filter changed. Larry work us into the schedule and we on the road within 30 minutes. And had a safe and uneventful trip back home. Larry really cares about his customers. He asked me to call when we got home,he wanted to make sure everything was ok. Thanks Larry!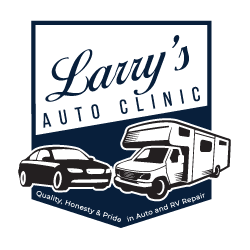 As full-time RVers since 2007 traveling in our 2003 Workhorse Winnebago Sightseer, we have had two occasions since 2012 that Larry's Auto Clinic in Myrtle Beach, SC, an authorized Workhorse Service Center, came to our rescue. On both occasions, the necessary repairs were made in a timely manner and at a fair price to get us safely back on the road again.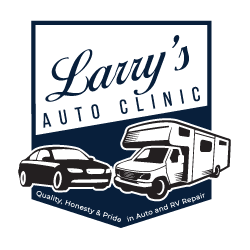 Larry's Auto Clinic fixed my 2013 Chevrolet Impala. At a really great price. Best Mechanic in Myrtle Beach, SC.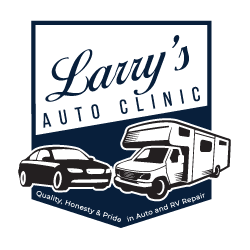 We whole heartily recommend Larry, his wife Betty, and the crew of Larry's Auto Clinic in Myrtle Beach, SC for any auto, truck or RV service one may need and we are truly very grateful to have been lucky enough to find him!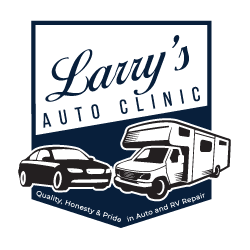 I had my motorhome repaired at Mr Larry's. It was a great service and done right. Everyone there was so great and it was done for a fair price. He even asked me to call him when I got home to let him know all was good. I had no problems at all, job done right the first time. I live 175 mile away he told me if I ever need help finding parts call him. Mr Larry knows motorhomes. If you are at Myrtle and have trouble go see Mr Larry you won't be sorry.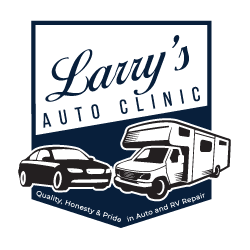 Best place to go for any RV repairs. Larry has been wonderful to us and does professional work that he will back. I would more than recommend going here. I've tried other places in Myrtle Beach that just dont know RVs like these guys do.
Discover More About Reviews and Repair Services At Larry's Auto Clinic Inc. in Myrtle Beach

Surfside Beach Auto Repair
Miscellaneous Auto Services
Socastee Auto Repair
coupons
Premium Vehicle Inspection and Oil Change $40.00 Savings!

Now $55.00 on a $95 value.
view coupon
Have you had your annual Premium Vehicle Inspection and Oil Change yet? Larry's Auto Clinic is offering this specialty service Including up to 5 qts of synthetic blend, tire rotation, brake inspection, battery load test, check and top off fluids, inspect belts, hoses, lights, wipers, tire pressure and tread. Check front and rear suspension, Engine air filters and AC vent temp.
Testimonials
Wes M

, 12/13/2021
Best diesel mechanic in town. Has worked on my Chevy 3500 dually many times. Won't bring it anywhere else. Very knowledgeable and always a fair price for work done.
view all reviews